Image
Background
Defined by James B. Griffin in the 1940s. Known for a long time from the Stallings Island site above Augusta in the Savannah River from the 1920s excavations by the Cosgroves, and by the 1931 report of these excavations by William Claflin. Antonio Waring used the name Stallings Island Plain, but the type name without the word Island is the preferred one at the present.
Sorting Criteria
Plain fiber-tempered pottery. The exterior is either roughly smoothed or well smoothed. Vessel form is bowl shape, comes close to the cazuela shape on those vessels having straight rims. Rims slant outward usually, however at the Stallings Island site are found straight rims that slant inward. Lips are most commonly narrowed or rounded. They are rarely flattened.
Geographical Range
On the Atlantic Coast from South Carolina south to St. Simons Island. Up the Savannah River well into the Piedmont.
Chronological Range
Late Archaic period.
Pottery Image(s)
Image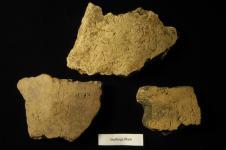 Image