Image
Background
This type is related to Fort Walton Incised. Named by Gordon Willey for Pinellas County, Florida.
Sorting Criteria
Incising and dot punctating on fine to medium-coarse sand-tempered pottery. Designs include a single line encircling the vessel just below the rim with a row of punctations above it (like eyebrows), rectilinear-curvilinear guilloche or scrolls, meanders filled in with punctations, parallel lines, running scrolls, and wavy bands. Known vessel forms include collared bowls, open bowls, and cazuela bowls. Rim forms are incurved or straight. Vertical loop handles were sometimes attached to the vessels. Like Ocmulgee Fields Incised in many ways.
Geographical Range
Northwestern Florida and up the Chattahoochee River at least to the Roods Landing site.
Chronological Range
Late Mississippian Safety Harbor period.
Pottery Image(s)
Image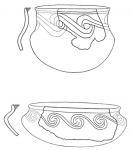 Image